I am an enthusiastic lover of breakfast. Sweet or savory—it doesn't matter. I love the ritual of diner breakfasts in all of their comfort and regularity, full of worn vinyl booths and steaming cups of coffee. And nowhere is that love better personified than in one of Minneapolis' newer eateries, the Hi-Lo Diner.
Housed in an original 1957 Fodero Diner, the Hi-Lo's building traveled from Gibsonia, Pennsylvania all the way to Minneapolis to bring the beauty of breakfast to Minnesota. Today the retro diner serves up diner favorites with an inspired twist alongside creative cocktails and seriously tempting pie.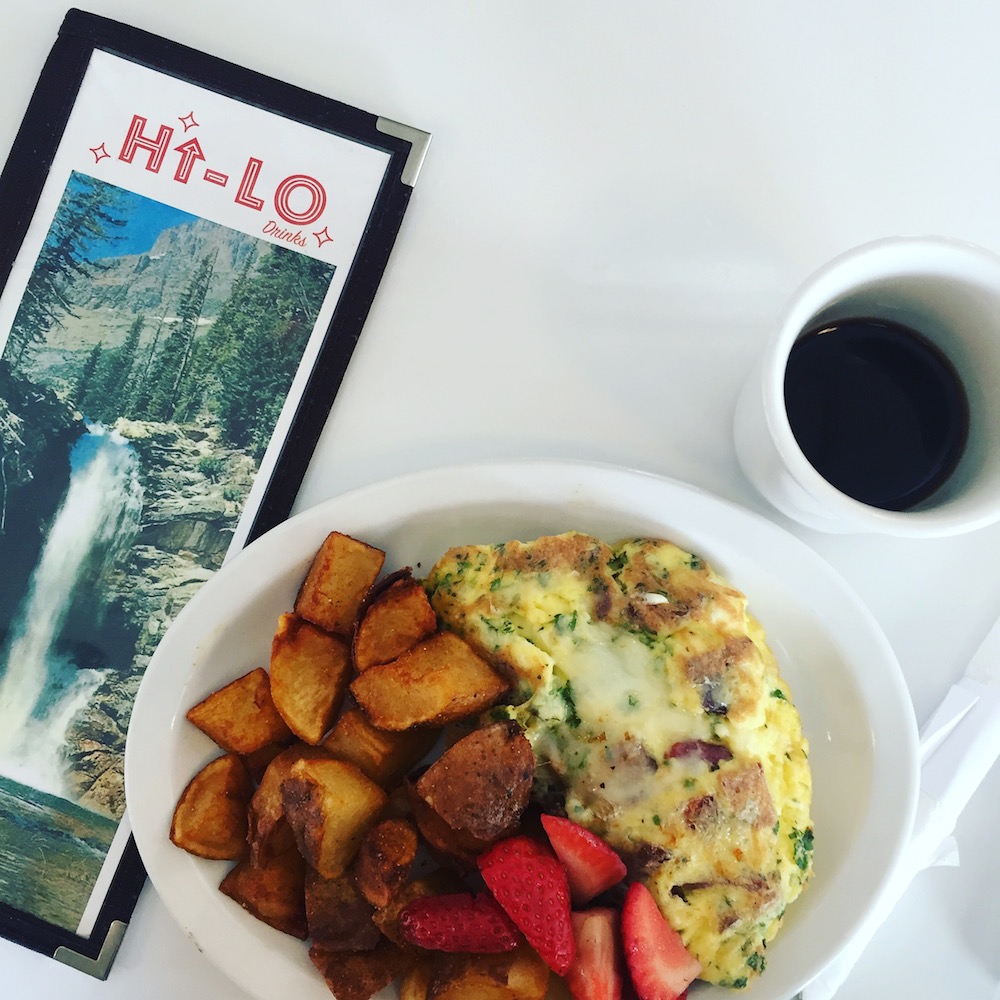 When we visited, the wait at this popular breakfast spot was over an hour—no, they don't take reservations. After leaving our names at the counter, we popped across the street to Dogwood Coffee for pre-breakfast lattes to sip on while we waited. Once our names were called we bellied up to the bar and watched the bartenders bustling around behind the counter.
Since we were headed back to Iowa after breakfast, we didn't imbibe (though the Hi-Lo's cocktail menu is tempting). I opted for Zie Local Yolkel (a herby omelette topped with Gruyere) while my dining partner enjoyed the hearty Breakfast Sandwich. On our next visit I'll definitely be trying one of the diner's famous "Hi-Tops," a fresh donut dished up with a variety of sweet or savory toppings.
Did I mention that you can order breakfast until 10 pm? The Hi-Lo Diner may truly be heaven.

Make a Bloody Mary Like the Hi-Lo Diner
As we sat at the counter watching the bartenders craft cocktails, the Hi-Lo Diner's Bloody Mary was by far the most popular. While I'm not much of a tomato juice fan, I can still appreciate a good Bloody Mary snack when I see one.
To recreate your own at home, start with your choice of vodka and add in your own Bloody Mary mix. Fun fact: The Hi-Lo Diner's homemade mix is vegan-friendly. The Worcestershire sauce added to the mix is made without anchovies to ensure everyone can enjoy this beloved breakfast classic.
Finish your drink with a spritz of celery salt, and, of course, a quality snack. The Hi-Lo's features a pickle wrapped in cream cheese and peppered roast beef. Also, per Minnesota tradition, each Bloody Mary is served with a mini "Champagne of Beers" as a chaser.
Hi-Lo Diner, 4020 E. Lake Street in Minneapolis, MN