Disclosure: The Kenosha Area Convention and Visitors Bureau hosted our visit to Kenosha, Wisconsin. We received a free admission and a tour of the Southport Lighthouse, free admission to the Civil War Museum, and a free ride on Kenosha's historic streetcar. However, all opinions are my own.
---
When I travel, I love to delve into a bit of local history, especially if it involves a niche museum or two. During a recent trip to Kenosha, Wisconsin, I was surprised by the number of historical attractions this small community offers.
From traditional venues like historical museums (Kenosha is home to five!) to unique experiences like an electric streetcar, there's a way for everyone to experience a bit of the area's history. If you find yourself nearby, don't miss an opportunity to experience one (or more) of these unique ways to explore the history of Kenosha, Wisconsin.
Kenosha History Center
When it comes to learning about this lakeside community's origins, the best place to start is the Kenosha History Center. This free museum houses an incredible collection of artifacts from throughout Kenosha's history. Begin in the Yesteryear Gallery and peruse historic artifacts from the early days of Kenosha. Discover challenges that early settlers of the Wisconsin Territory may have faced and see what early local shops may have looked like.
Continue on to the Rambler Gallery to experience Kenosha after the turn of the 20th century. A large part of the community's story centers around auto manufacturing, and the Kenosha History Center offers an engaging and comprehensive look at the companies that brought their vehicles to life here. Visitors will find a collection of classic cars once produced in Kenosha in this gallery with new vehicles being rotated in every 12 months. If you're a classic car buff, this is a must-see! One of my favorite areas of the Kenosha History Center was the replica storefronts of early Kenosha. The fabricated facades include the Thomas B. Jeffrey building, an 1896 fire station, 1930s era Texaco station, and more.
Admission: Free admission / Suggested donation: $2 per person
Hours: Tuesday – Friday: 10 am – 4:30 pm / Saturday: 10 am – 4 pm / Sunday: Noon – 4 pm
Kenosha History Center, 220 51st Place in Kenosha, Wisconsin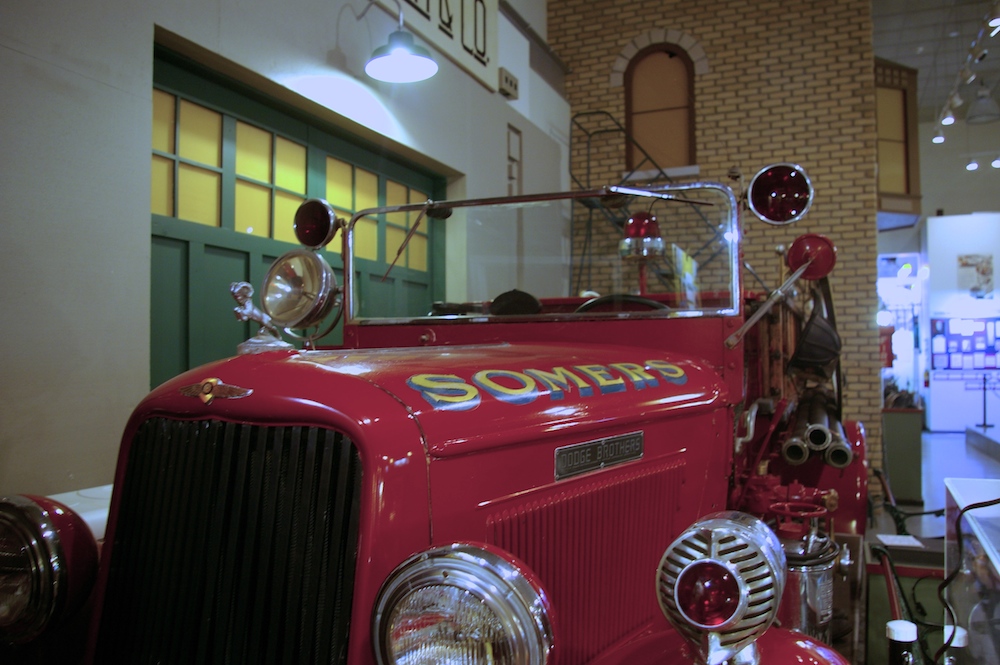 One of the most unique aspects of Kenosha's history is the Southport Lighthouse. The lighthouse gets its name from the city's founding Pike Creek settlement, which became Southport in the 1830s. The area got its name because it was the southern-most port in the Wisconsin territory on Lake Michigan.
Standing 55 feet above the ground, the lighthouse has 72 spiral steps to reach the tower room. After climbing the tower once, I can't imagine what it would have been like to be a lighthouse keeper. Making the summit multiple times a day, especially in the dark, sounds both exhausting and slightly terrifying.
Continue reading about Southport Lighthouse…
Southport Lighthouse, 5117 4th Avenue in Kenosha, Wisconsin
Civil War Museum
Head across the harbor to the Smithsonian affiliated Civil War Museum. This unique museums offers an in-depth look at the upper-Midwest's involvement in the Civil War. Through hundreds of artifacts and many different interactive settings, the Civil War Museum gives visitors a comprehensive look at life during the Civil War era.
If you have time, be sure to catch a screening of the museum's 360° movie, Seeing the Elephant. This 10-minute film gives a unique perspective on the lives of Midwestern soldiers fighting in the Civil War. While the circular format takes a few minutes to get used to, we really enjoyed the experience.
Admission: $9 / Children (ages 15 and under) accompanied by an adult receive free admission
Hours: Monday – Saturday: 10 am – 5 pm / Sunday: Noon – 5 pm
Civil War Museum, 5400 1st Avenue in Kenosha, WI
Kenosha Public Museum
Just next door is the Kenosha Public Museum, a natural sciences and fine and decorative arts museum that's a great place for kids who love to explore. Discover the flora and fauna that were once present in the Kenosha area, and learn how Native Americans lived.
One of the most fascinating parts of the Kenosha Public Museum is the Schaefer and Hebior mammoth exhibit. The Schaefer mammoth was discovered in the nearby town of Paris in 1964 when a worker literally stumbled upon its bones while digging a drainage ditch. Nearly 30 years later, an excavation team returned and recovered what is thought to be the "oldest known mammoth believed to have been butchered by humans with tools east of the Mississippi River."
Admission: Free admission / $5 suggested donation
Hours: Monday – Saturday: 10 am – 5 pm / Sunday: Noon – 5 pm
Kenosha Public Museum, 5500 1st Avenue in Kenosha, WI
Historic Electric Streetcar
After exploring the city's many museums, hop on the Kenosha streetcar to enjoy a two-mile loop around downtown with a beautiful scenic view of Lake Michigan.
The Kenosha Electric Railway first opened in February 1903, and carried passengers until 1932 when the city converted to electric trolley buses. For about a 40-year span, streetcars disappeared from the city of Kenosha. But in the late '90s, city planners began planning for a new modern electric streetcar system. In June of 2000, Kenosha's new streetcar carried its first riders in six historic Presidents' Conference Committee originally built for the Toronto Transportation Commission in the 1950s.
Today Kenosha's streetcar is one of its most delightful tourist attractions. We loved buzzing through downtown on these adorable historic streetcars. When it comes to exploring Kenosha, the streetcar is a fantastic option, especially if you're looking for a quick way to get from one end of downtown to the other.
Fare: $1 riders ages 13 and older / 50 cents (children ages 5 – 12) / Children under age 4 ride for free / $3.50 all-day pass (per person)
View the 2017 route map and schedule here.
A huge thanks to the Kenosha Area Convention and Visitors Bureau for helping us experience Kenosha, Wisconsin's unique history!