When you think of foodie destinations, Kenosha, Wisconsin may not automatically spring to mind. But not only is this lakefront community teeming with local history, it's also home to some truly delicious food. From upscale eateries and Wisconsin favorites like fried cheese curds to cozy coffee shops and heavenly smelling bakeries, Kenosha has it all.
The next time you find yourself exploring this stretch of Lake Michigan's waterfront, make time for a meal in Kenosha. Not sure where to eat? I've compiled a foodie guide to Kenosha restaurants and shops that visitors of all ages are sure to love.
The Buzz Cafe
Any day that starts with breakfast and coffee at The Buzz Cafe is sure to be a good one. We were so charmed by this delightfully cozy coffee shop during our time in Kenosha that we visited twice in less than 24 hours. The cafe offers a delicious assortment of breakfast sandwiches, pastries, and quiches as well as incredible coffee from the Metropolis Coffee Company in Chicago.
The best part? The Buzz Cafe is open until 9 pm most nights, and turns wine and craft beer bar later in the day. With more than 200 wines in stock and 20 beers on draft, the beautifully decorated space is the perfect place to unwind after a long day or catch up on some emails in the evening.
The Buzz Cafe, 5621 6th Avenue in Kenosha, Wisconsin
Elsie Mae's Bakery and Cannery
Simply walking through the door of Elsie Mae's Bakery and Cannery is a delight for the senses. And if you love a good homemade pie, this is an eatery you won't want to miss. While it's hard to choose for all of Elsie Mae's freshly baked goodies, we opted to try to cookie dough and chocolate bourbon pecan pies. Both were incredible (as I'm now sure all of this bakery's offerings are) and traveled exceptionally well as edible souvenirs of our visit.
Elsie Mae's also cans more than 100 seasonal varieties of jam. We sampled a few delicious options when we visited their storefront, and I couldn't resist buying the spiced apricot preserves to take home with me.
Elsie Mae's Bakery and Cannery, 5819 6th Avenue in Kenosha, Wisconsin
Mars Cheese Castle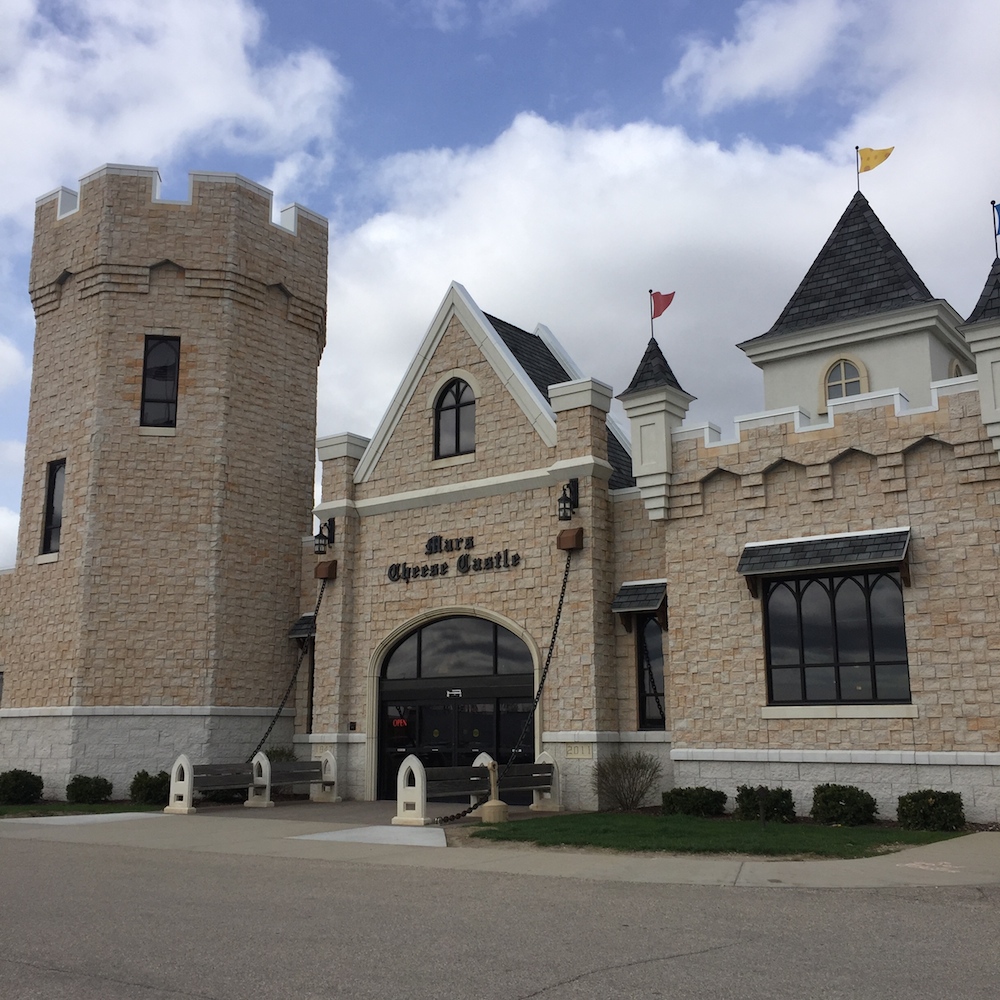 If there are two things I truly love in this world, it's beer and cheese. So the Mars Cheese Castle is essentially my version of paradise. Not only does this classically Wisconsin shop sell hundreds of different cheeses, but it's also a fantastic place to discover Wisconsin beer. Sample your way through the Mars Cheese Castle showroom before buying some cheese curds (the squeakier, the better), summer sausage, and crunchy snacks for an impromptu picnic. And don't forget to pick up a six-pack or two of New Glarus' Spotted Cow!
Mars Cheese Castle, 2800 W. Frontage Road in Kenosha, Wisconsin
Mike's Donuts and Chicken
No foodie guide to Kenosha would be complete without a mention of Mike's Donuts and Chicken. Technically, this restaurant is three establishments—Mike's Donuts & Chicken, Mike's Chicken & Donut Bar and Mike's Sportsbook & Meat Bar—all under one roof. Along with adorable branding and colorful decor, Mike's Donuts and Chicken serves up some seriously delicious food.
If you're in the mood for something sweet, snack on a donut, dessert cocktail, or spiked milkshake. While this creative restaurant group offers donut varieties like maple bacon and Girl Scout cookie, even the plain glazed we tried was divine. Or if you're feeling something more savory, I recommend the grilled chicken breast sandwich on a deliciously flaky biscuit. Can't decide? Get the best of both Mike's worlds by ordering your chicken wings with a sweet donut glaze.
Mike's Donuts and Chicken, 701 56th Street in Kenosha, Wisconsin
Waterfront Warehouse
After a full day of exploring, we enjoyed a wonderful dinner at the Waterfront Warehouse. Located just north of downtown along Lake Michigan, this energetic eatery is the perfect place to grab dinner or drinks with friends and family. During the warmer months, the restaurant also offers a large amount of patio seating.
During our visit, we were especially impressed by the restaurant's decor and welcoming staff as well as the variety of delicious options its menu offered. I enjoyed one of Waterfront Warehouse's seasonal pasta specials, a delicious handmade tortellini topped with pesto and shrimp. My mom ordered the equally delicious California Club flatbread. If you're looking to get your fried cheese curd fix, this is definitely the place!
Waterfront Warehouse, 3322 Sheridan Road in Kenosha, Wisconsin
Share Your Thoughts
I would love to hear from you! Which restaurants would you add to your personal foodie guide to Kenosha, WI?
A huge thank you to the Kenosha Area Convention and Visitors Bureau for introducing us to some of the most delicious parts of Kenosha, WI!