Whether I'm traveling or exploring my own neighborhood, I love to seek out historic homes. Maybe it's a curiosity to discover how other people once lived. Or maybe it's the simple desire to peek inside an elaborate house. Regardless of the reason, I always find myself drawn to old homes, and the Tinker Swiss Cottage is one of the most unique I've ever visited.
This ornate 27-room cottage was built in the 1860s on the limestone bluffs overlooking Rockford, Illinois' Kent Creek. From the outside it's easy to see the detailed Swiss influence on the home, but once inside the design is even more delightful and inspiring. What began as a one-room cabin has since evolved into a sprawling mansion with elaborate woodwork, hand painted murals, and an incredibly rich history.
During our visit we were lucky enough to receive a delightful tour from the cottage's Executive Director Steve Litteral. Not only is Steve extremely knowledgeable about the home and its former residents, but he is also one of the funniest tour guides I've ever met. It was wonderful addition to my time in Rockford to spend a few hours exploring this unique home and learning about one of the most influential families in the community's local history.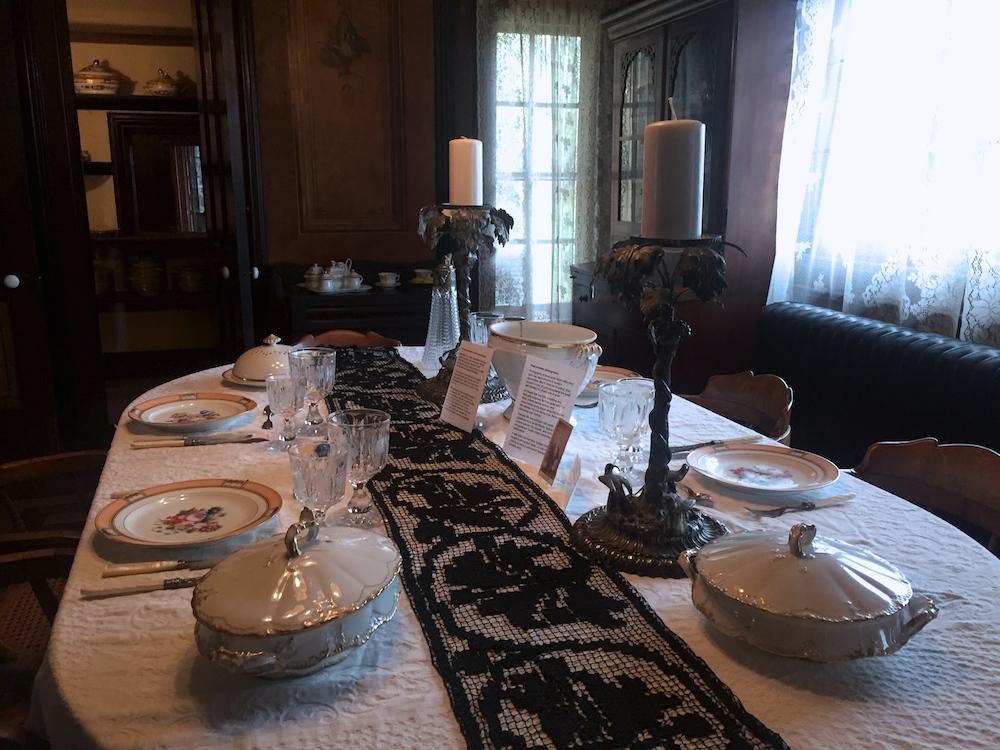 Unlike some historic homes where visitors are restricted to hallways and corridors, virtually every part of the Tinker Swiss Cottage is open and ready to be explored. It seems like around every corner and through every doorway in this home there are unique details to discover. I think my jaw literally dropped when I saw the Tinker's impressive two-story library and walnut spiral staircase. But what is even more impressive is that many of the home's ornate touches are handmade or designed by Robert Tinker himself.
I was also surprised to learn that so many of the objects on display in the museum are actually original to the home. From books and personal items to dishes and flatware, it's remarkable to see how the Tinkers may have lived in their lavish home.
A bit of history about Tinker Swiss Cottage
Robert Hall Tinker began building his ornate cottage in 1865 after a trip to Switzerland. Inspired by the country's architectural style, Mr. Tinker spent much of the next 15 years building his own Swiss cottage in Rockford.
In 1870, Mr. Tinker married Mary Dorr Manny, the widow of  John H. Manny of the Manny Reaper Works, and the pair became one of the most influential couples in the city. Five years later, Mr. Tinker became the Mayor of Rockford. He also helped found the Rockford Park District and was the CEO of one of the area's major rail companies.
When Mary Tinker died in 1901, Mr. Tinker remarried her niece, Jessie Dorr Hurd Tinker. The pair lived together in the home with their adopted son Teddy until 1924 when Mr. Tinker passed away.
After Mr. Tinker's death, Jessie partnered with Rockford Park District, which allowed her to remain in the home until her death in 1942.  The following year the Tinker Swiss Cottage opened to the public as a museum supported by the Park District.
If you visit the Tinker Swiss Cottage
After visiting this unique historic home, I truly believe it should be on everyone's "must see" list when visiting Rockford. Not only is the Tinker Swiss Cottage a unique look into how a 19th century family would have lived, but its style and design truly set it apart from other historic homes.
If you aren't a history buff, the Tinker Swiss Cottage also offers paranormal and holiday themed tours. In fact, the TV show Ghost Hunters has even visited this potentially paranormal destination. No matter your interests, there's a type of tour of the cottage sure to spark your curiosity.
While the cottage is regularly open to visitors, you must be part of a tour group to see inside. General Admission tours are offered Tuesday through Sunday at 1 and 3 pm. Private tours are also available for groups of 10 or more, and can be booked through the cottage's website.
Admission: $7 Adults / $6 Seniors (65+) / $5 Children ages 6 – 17 / Free for children ages 5 and under
Tinker Swiss Cottage, 411 Kent Street in Rockford, Illinois
---
Looking for more things to do in the Rockford region? Check out the other places I visited on my road trip.