Disclosure: Visit Wichita hosted my trip to Wichita, Kansas, and paid for my meals at some of the places listed below. However, all opinions are my own.
Some cities are known as foodie cities. But you might not expect to find small batch coffee roasters, craft breweries, and world-class restaurants in the middle of Kansas. Then again, if you're a regular reader of this blog, you've probably realized that I love a good hidden gem. So it should come as no surprise to hear that there are tons of incredible place to eat in Wichita, Kansas.
Over the course of my travels, I've visited some truly delicious places. But Wichita has an entirely different culinary vibe. From an urban chop shop to a bakery offering late night desserts and hand pies, everywhere I went people were immensely friendly and proud to share the stories of their community. In my experience, that's Wichita—passionate, hardworking, and creative.
In my experience, those traits absolutely translate to the city's culinary scene, leaving a bevy of options for every type of traveler to enjoy. The next time you're in town, grab a bite at one (or more) of these 12 terrific places to eat in Wichita, Kansas.
Plus, I've created a free digital download so you can keep track of all of your favorite places to eat in Wichita!
Places to Eat in Wichita, Kansas
The Anchor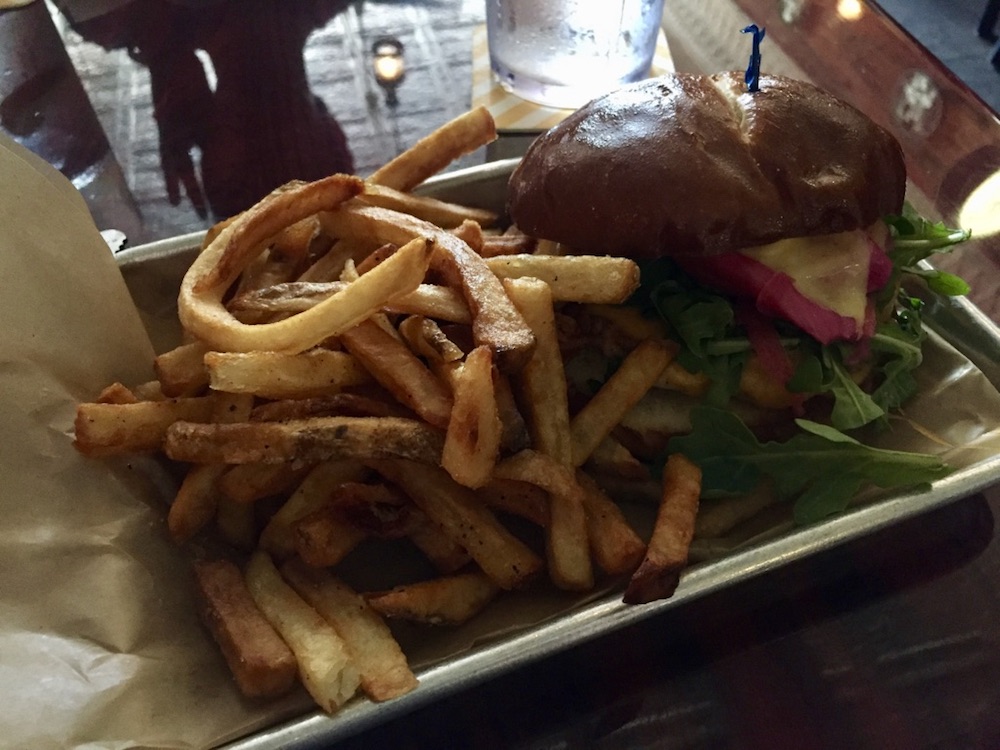 Located in the heart of the Douglas Design District, The Anchor is a combination pub and butcher shop that's become a community staple. When I popped in for a quick weekday lunch the pub was bustling. With an expansive menu ranging from sandwiches and salads to burgers and meat-heavy hearty entrees, The Anchor has something for everyone. I'm always a sucker for pickled onions so opted for the Turkey Pretzel Pub burger. Not only was the burger juicy and delicious but it was also a hefty portion I didn't even come close to conquering.
Alongside the restaurant, you'll find The Anchor Meat Market, a butcher shop that not only provides cuts for the restaurant but does local business as well. Stop by and grab beef, pork, poultry, or even rabbit to prepare at home.
The Anchor, 1109 E Douglas Avenue in Wichita, Kansas
The Donut Whole
Show me a new town, and I'll find the best donuts. In Wichita, that meant a trip to The Donut Whole. Located in the Douglas Design District, the Donut Whole is easy to spot by its large rooftop rooster. The local donut shop is as colorful on the inside as the donuts it serves. With walls papered with vintage advertisements and funny greetings, the Donut Whole feels like a piece of home—even if it's your first visit.
In preparation for a morning of mural hunting, I stopped into the Donut Whole for a sweet snack. After a lot of consideration, I chose a Midnight Rainbow donut—chocolate frosted with rainbow sprinkles. As you leave through the front doors, remember to look up at the sidewalk awning. Public art—even donut themed—is everywhere in in Wichita, if only you know where to look.
The Donut Whole, 1720 E Douglas Avenue in Wichita, Kansas
ICT Pop-Up Urban Park
Visiting Wichita's ICT Pop-Up Urban Park is like discovering a hidden gem tucked between downtown's buildings. Located in the heart of Wichita, the urban park transforms an otherwise ordinary lot into a space to gather and enjoy good food. During the work week, food trucks and sidewalk carts roll up to serve passersby breakfast and lunch. The space is a fantastic space for community gathering, and also holds events on the weekends.
ICT Pop-Up Urban Park, 121 E Douglas Avenue in Wichita, Kansas
Little Lion Ice Cream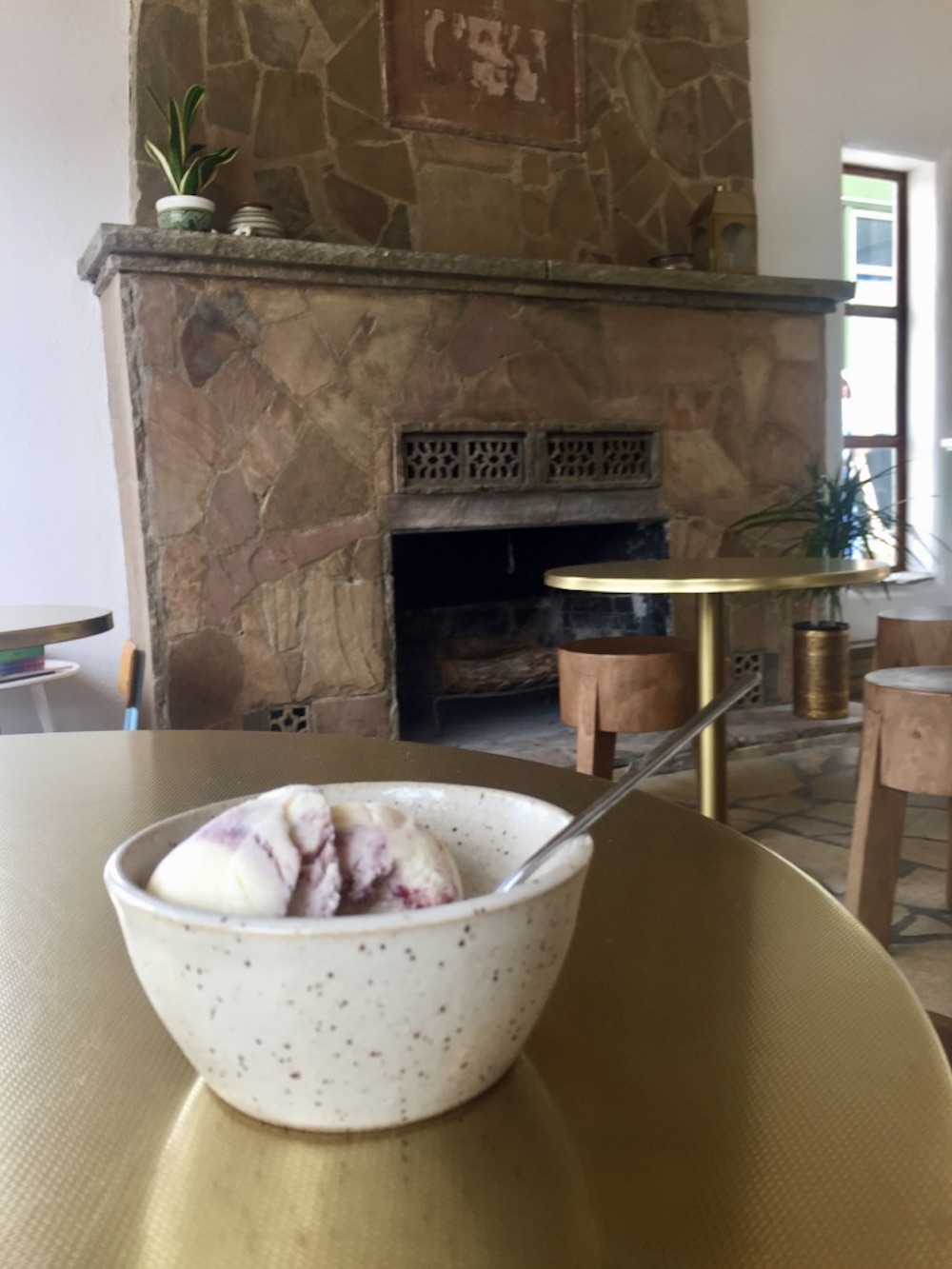 If it were up to me, ice cream would be its own food group. And if I had to pick a place to exclusively eat it, it would be Little Lion Ice Cream. Housed in a tiny stone cottage, Little Lion is quite possibly the coziest ice cream shop you may ever find. With mod seating areas and a quiet loft that would be perfect for an afternoon of working, this little shop will have you wanting to take up residence. Add in the fact that their coolers are full of inventive flavors like lime coconut avocado or sultry caramel, and you may never want to leave.
After much deliberation, I chose a scoop of Mr. Elderslie, a cream cheese based ice cream made with blackberries from a local farm. If reading "cream cheese based ice cream" made you feel skeptical, let me dispel your concerns. This sweet treat was a true delight that left me wishing I could take a pint (or three) back to Iowa with me.
The shop is located just northeast of downtown, and is next door to Revolutsia, a shipping container park with beergarden, restaurants, and other fun local spots.
Little Lion Ice Cream, 2721 E. Central Avenue in Wichita, Kansas
Milkfloat
Milkfloat has a mission I can get behind—celebrate dessert. Located in Wichita's Delano District, Milkfloat is a bakery and ice cream shop that offers all sorts of decadent desserts. The best part? They're open late! I find that I'm most likely to crave a pastry of some sort after 8:30 pm. So I was delighted to have Milkfloat nearby to satisfy my cravings.
One night before I headed to the firepot lighting at the Keeper of the Plains, I popped into Milkfloat for a sweet treat. For the first time (maybe ever) I decided to forego ice cream in favor of a triple chocolate, homemade PopTart. And I was blown away! The outside of the pastry was perfectly flakey while the inside filling remained gooey and sweet. Don't miss out on this incredible shop when you find yourself in Wichita!
Milkfloat, 535 W Douglas Avenue #140 in Wichita, Kansas
Nifty Nut House
While it's not technically a restaurant, no foodie post about Wichita would be complete without mention of the Nifty Nut House. This local snack emporium is a candy lover's dream. With hundreds of nuts, pretzels, seeds, chocolates, and candies available for purchase by the pound, I dare you to walk out without finding something you just had to try.
Need a recommendation? The Milk Chocolate Double Dipped Peanuts and the Chocolate Covered Gummi Bears were both fast favorites of mine. I also recommend rounding your snacks out with something salty like one of the Nifty Nut House's many varieties of pretzels or sesame sticks.
Nifty Nut House, 537 N. St. Francis in Wichita, Kansas
Nortons Brewing Company
Direct me to a brewery with a fantastic food menu and there's not much else I need. In Wichita, that's Nortons Brewing Company. On my first night in Wichita I grabbed dinner at the taproom bar and loved experiencing a little slice of the city.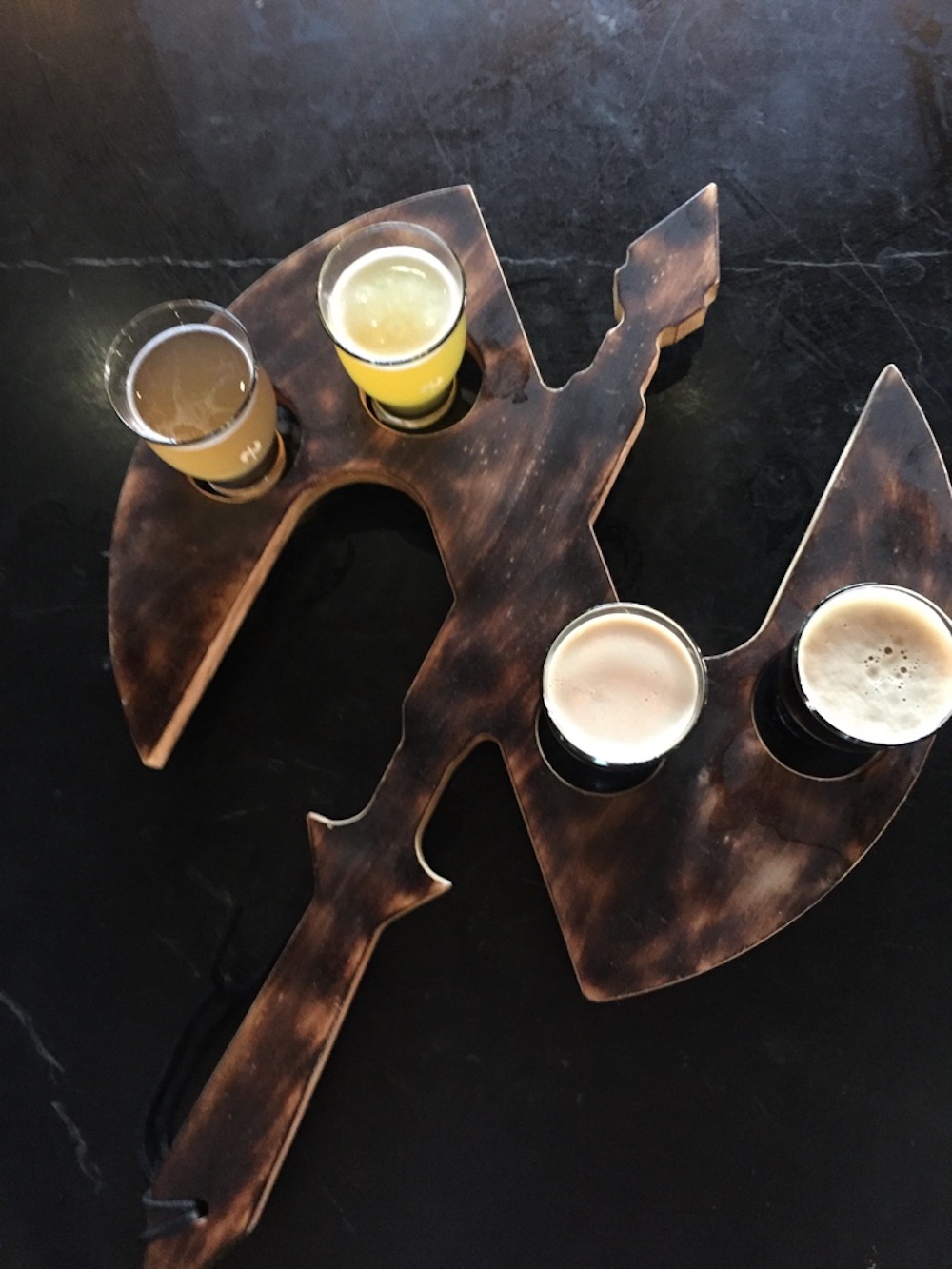 Located in the Oldtown neighborhood of Wichita, Norton's Brewing Company includes a large taproom and enclosed patio with porch swings, yard games, and more. Seated in the busy taproom at the bar, I tried to order the charcuterie board only to discover they were out for the evening. That ended up being the best disappointment ever. Because of it, I got to experience the best spinach artichoke dip I've ever had. I paired my newfound favorite dish with a flight of Nortons Brewing Company's craft beers. While I'm usually more of a dark beer girl, Nortons' Cool Water Sammich—a watermelon mint gose—was my surprise favorite. This minty beer was the perfect summer sipper and left me wanting more immediately.
Nortons Brewing Company, 125 N. St Francis in Wichita, Kansas
Old Mill Tasty Shop
As far as classic soda fountains go, you can't get more authentic than the Old Mill Tasty Shop. During my second day in Wichita, we popped into the Old Mill Tasty Shop just before closing for an afternoon milkshake. Growing up, there was a soda fountain up the street that we sometimes visited on special occasions. This Wichita institution took me right back to those days.
Seated at the counter, I ordered a coffee malt that was so big it arrived in a glass and an almost-full milkshake mixer. Topped with whip cream and a cherry (how else!?) I sipped on my malt while taking in the history around me.
Old Mill Tasty Shop, 604 E. Douglas Avenue in Wichita, Kansas
Public
If patios are your passion, your time in Wichita must include a meal at Public at the Brickyard. Tucked behind a brick walled courtyard that reminded me of a piece of New Orleans plopped down in Wichita's Oldtown neighborhood. Public is the perfect blend of pub atmosphere with all the cozy qualities of a friend's backyard patio.
We started our meal with an order of the Public Pickles. While I had never heard of this as an appetizer, I was more than on board. Alongside a jar of sweet pickles, we received slices of bread, meat, and cheese to stack and enjoy. Public has a variety of tempting dinner entrees alongside their rotating specials, but ultimately I was won over by The Cuban. Perfectly pressed with just the right amount of mustard, this sandwich ranks high on my list of best Cubans ever.
Just when I thought I couldn't love Public any more our check arrived, nestled in the pages of a worn hardcover book. I loved reading the notes past patrons had left in the book's worn pages while we got ready to continue our evening elsewhere.
Public at the Brickyard, 129 North Rock Island Road in Wichita, Kansas
Reverie Coffee Roasters
Finding a great coffee shop is high on my to do list when exploring a new city. Luckily, I liked Reverie Coffee Roasters so much that I visited two days in a row. Located in the Douglas Design District, Reverie Coffee Roasters is a bakery and coffeeshop that will immediately make you feel at home. Both times I visited the shop was bustling with customers enjoying their breakfast and people having meetings over coffee.
On my second morning in Wichita I pulled up a seat at the bar to answer some emails and sip on one of the coffee shop's signature lattes. But it wasn't long before I couldn't resist the pull of their gooey monkey bread any more. I was just lucky I had a couple more days on the road and couldn't take home the half dozen loaves of bread I initially had my eye on.
Reverie Coffee Roasters, 2202 E. Douglas Avenue in Wichita, Kansas
R Coffee House
Tucked in a quiet residential neighborhood near Wichita's many museums, R Coffee House is a hidden gem in every sense of the words. With copious patio seating under the branches of towering trees, this is the perfect place to enjoy a quiet morning. I grabbed a veggie omelette and large mug of coffee on my last morning in Wichita, and was delighted to find such a tranquil place to relax before hitting the road.
If you're looking for even more ways to enhance your morning, R Coffee House is located next door to Songbird Juice Co.
R Coffee House, 1144 Bitting Street in Wichita, Kansas
The Spice Merchant
Much like the Nifty Nut House, The Spice Merchant isn't a restaurant as much as its a culinary adventure. Even if you're not looking for food, The Spice Merchant is worth a stop just for the smells. Today this former warehouse space is full of loose spices, tea leaves, and coffee beans. Roam the aisles and you'll discover all sorts of culinary gadgets and kitchen accessories you never knew you needed. Or grab spices in bulk or beans by the pound to bring home with you. During a trip to The Spice Merchant, one thing is certain—you never know what you'll discover.
The Spice Merchant, 1300 E. Douglas Avenue in Wichita, Kansas
Grab Your Free Digital Download: Places to Eat in Wichita!
Want an interactive checklist of places to eat in Wichita? Grab your free digital download now!
Share Your Thoughts on Places to Eat in Wichita
I would love to hear from you! What are your favorite places to eat in Wichita, Kansas?